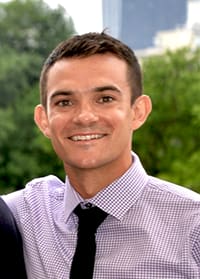 Gus Haugen
Gus is a certified personal trainer and is in the process of attaining his Strength and Conditioning Coach Certification (CSCS).
Currently, Gus is a personal trainer at 3
rd
Coat Athletic Labs where he will continue to grow and further his education on scientific based training under the tutelage of Lori Thomson. His dedication to
continuing
learning about the exercise sciences and helping people achieve their individual goals is his top priority.

From a very young age, physical fitness has always been an integral part of Gus's life. Outside of family, it's safe to say sports were the strongest influence on his adolescence and young adulthood. Through the years his passion for physical fitness and well-being continued to grow which ultimately led him to the decision in pursuing a B.S. in kinesiology from the University of Nevada Las Vegas. He looks to keep educating himself in the field to make himself a better trainer for himself and for his future clients.