Beginner Bootcamp Classes Enrolling In October
Don't miss out on our explosive Bootcamp training at SOS Chicago. This intense program is built specifically with you in mind. From day one, you're surrounded by an incredible support system that motivates you to push your body like never before.

Our Bootcamp training is great for all experience levels. All we ask is that you give it your all - you'll walk away feeling proud of everything you've accomplished!
Simply fill out the short form on your screen to get started today!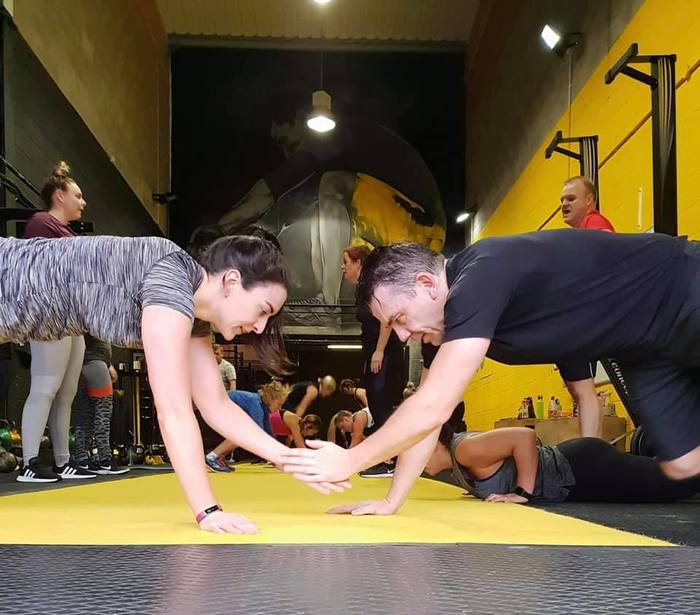 Take On The Best Functional Fitness Training With Our Bootcamp
The last thing we want to do is waste your time with cookie-cutter workouts. In our Bootcamp program, we train with a purpose and equip you with the tools to take your training to the next level.

At SOS Chicago, you can combine...
Bodyweight movements
Strength building exercises
Mobility and agility work
And effective cardiovascular endurance
PLUS, We'll Have Your Back Every Step Of The Way
The best part about the Bootcamp program is the unwavering support you'll experience week after week. Don't face another challenge alone.
With classes of only 10 people max, you'll enjoy all the best things about personal training and group classes. Our Bootcamp couples one-on-one attention from your instructor with a team mentality to push you to beyond what you ever thought possible.

From day one, you'll experience:
More motivation than ever before
Celebrations of every success
An ever-changing system that always keeps you guessing
Why Wait? Our Bootcamp In River North, Chicago Has Something For All Ages And Abilities!
If you're ready to change the way you train and start seeing results, we're ready for you at SOS Chicago. Our Bootcamp training is a great way for all experience levels to challenge themselves and feel proud of their accomplishments.
Just fill out the short form on your screen to get started or to learn more!